How to Find the Best Bridal Makeup Artist in Houston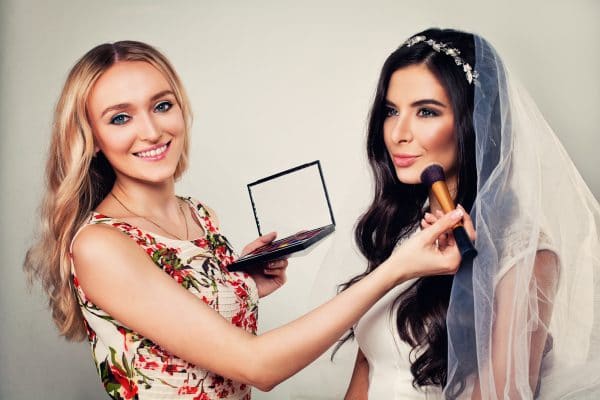 You've dreamed about this day since you were a little girl, and now it's finally here!
It's your wedding day, and it's a day you will look back on and cherish for the rest of your life. You want everything to be flawless. You want to look and feel beautiful. Today is your day to shine like never before.
To pull off your best bridal look on your wedding day, a professional makeup artist is a must have. But, how do you know which one to trust for the most special event of your life? We're here to help!
If you're looking for the best bridal makeup artist in Houston, this post is for you. Read on for can't-miss tips on how to find the local makeup artist that will turn you into the bride of your dreams!
Are You Prepared for Your Wedding Day?
On your wedding day, you don't want to take any chances. When it's time to walk down the aisle, you want to the most beautiful girl he's ever seen. And you will be. Just follow this advice on how to nab the best bridal makeup artist in Houston.
1. Find the Look You Want First
Before you even begin your search for a stylist, you need to find the look you're going for. So, it's time to do some serious research. Grab some bridal magazines and check out bridal hair and makeup ideas on the web. When you find the bride that matches the look you're after, print the photos or cut the pictures out. Then, save them all to take with you when you visit bridal stylists.
This will help you cut out so much guesswork. And, it will give your beautician a starting point. Some so-called beauty pros may not be able to pull off the look you want. Not everyone knows the trick to smoky eyes or a glossy pout or creating a sunkissed, bronzed glow. Whipping up a star-studded bridal palate takes talent.
But, keep in mind, some looks may not be for you. A skilled stylist will be able to discern if certain makeup isn't right for your face. So, make sure you bring plenty of pictures that feature brides with several different color palates and hairstyles to choose which looks will be your best fit.
2. Give Yourself Plenty of Time
You don't want to start trying to find a top-rated makeup stylist at the last minute. First of all, the best stylists are booked plenty in advance. If they are a well-known bridal makeup artist in Houston, chances are you aren't the only bride that wants them. Keep in mind that you will need to fit into their schedule. So, be sure to provide ample notice if you want them to be available on the date of your wedding.
Also, you will need to make appointments with them prior to the wedding for consultations and test-runs. Depending on how many you visit, and their bookings, it could take more time than you might think to find the one you want.
3. Ask the Right Questions
When you go to your appointment, be prepared with a list of questions. You need to know what happens if they can't make it due to an emergency or illness. Do they have a substitute? Are they familiar with your type of skin, the looks you like, and your type of hair? Do they have experience with weddings?
Do they have any special requirements for you? How much do they charge? Are there added charges for re-trials or other specifics? Every bridal makeup artist in Houston doesn't abide by the same rules. So, make sure that you know how your stylist works.
4. Research Health and Wellness Regimens
Many professionals include stepping up your skincare game as some of their best advice for brides. When searching for the right fit for you, check to see what your salon offers. Ask your stylist if they recommend any special skin care products, and find out if they are available for regular facials or other treatments that you might consider leading up to the day of the wedding. Watch your diet, and address any health issues to be sure that your skin is in tip-top condition when it's time for your vows.
5. Schedule a Trial Run
Once you decide on your look and find the stylist you want to work with, make sure that you try out your bridal look prior to the wedding. You may decide that your first choice of lipstick doesn't look like you had hoped. Or, that the makeup is too overwhelming for your style. Or, that the hairstyle you thought you wanted doesn't match the makeup at all.
If you don't like how something looks, or you want to trade in some of your cosmetics for a different shade or texture, it's best to decide this before your wedding day. When your wedding day arrives, you want to be as calm and ready as possible. You can avoid any makeup meltdowns by being totally prepared and knowing exactly how your look will turn out.
6. Have Your Own Makeup Kit Ready
Say you've picked the best bridal makeup artist in Houston. No doubt, when they do their thing you will look stunning. But as the day, or night, wears on, your makeup may start to wear off.
Chances are, your makeup artist won't be following you around to touch up your eyeshadow or powder your nose. So, make sure you have a kit with the essentials if you need to freshen up your face and hair throughout the ceremony or reception.
Looking for the Best Bridal Makeup Artist in Houston? Start Here!
Have you found the bridal makeup artist in Houston that is right for you? Or, are you feeling a little overwhelmed? There's no need to worry. Our beauty pros can make sure you look like a million bucks on your big day.
If you don't know where to start, our local salon professionals can help you find the look you want, even if you aren't yet sure what that look is! So contact us and schedule your appointment today!